eyeforpharma Ltd, headquartered at 7-9 Fashion Street, London, E1 6PX, United Kingdom. A registered company in England and Wales: 09823909. | Terms and conditions
Fulfil data's promise: achieve greater access.
Get the full details on RWE & Access Europe 2018 – fill your info below!
Where data empowers pharma, payers and key stakeholders toward a shared purpose – Europe's only home for RWE, data and access leaders.
Returning for its 6th year Real-World Evidence & Access Europe 2018 will bring together 250+ pharma leaders with key European HTA's & payers push pharma into the new era of data enlightenment.
As one we will explore the key themes:
Data is differentiation:
enhance your real-world study and analytical capabilities
to provide sharper insights
Unite stakeholders:
accelerate transition to a new data-led world by aligning
pharma, payers and HTA around
shared healthcare goals
Deliver intensity: Create a focussed pipeline where every
payer relationship, every dataset and every internal goal
gives you total dominance of your therapy area
Build what people want: ensure all departments,including
clinical and R&D, are prioritising access goals and start with
the patient in mind
Resurrect risk-sharing:
ensure reimbursement through smart agreements that
enable you to win through your higher-value offering
To see the full detailed agenda download the brochure on the right >>>
A snapshot of the industry leading speaker line-up: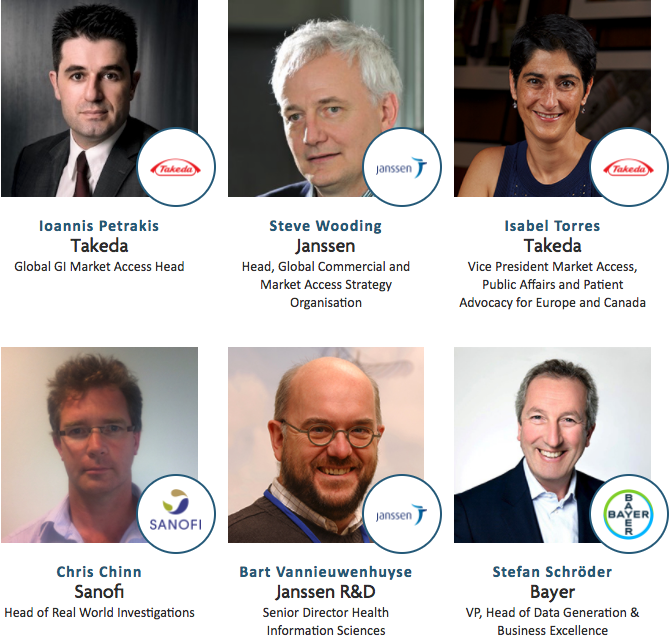 It's time to ask yourself – is data really your friend or foe?
Let's turn your company into a responsive, dynamic, adaptable, market-fluid and purposeful entity that will provide real value for all – meeting payer and regulator needs, and allowing patients the access to the drugs and treatments they need most.
To see the complete line-up of 40+ industry leaders download the brochure >>>
If you're interested and have any further questions or comments, we'd love to hear from you. Please get in touch on the details below!