Sorry you missed eyeforpharma Philadelphia 2018! Over the 3 days, patients, pharma and healthcare leaders and technology partners came together to share their ideas, lessons learnt and case studies on how they have turned insights from patients and customers into genuine healthcare innovations.
We are already working on the 2019 conference!
Be the first to get the 2019 agenda and speaker line-up by pre-ordering the event brochure on the right >>>

At this event you can expect 700+ attendees who will come together to:
Put patients first: understand pharma's new value paradigm and embed it in your business
Win more customers when you deliver on digital, CX and co-creation as part of your commercial strategy
Unleash the power of data with smart data sourcing and analysis techniques from the smartest tech
Become the trusted partner. Build real solutions through long-term collaborations based on trust and transparency
Pre-order the 2019 brochure to be updated with new speakers, topics and relevant content >>>

Some of the 2018 speakers included: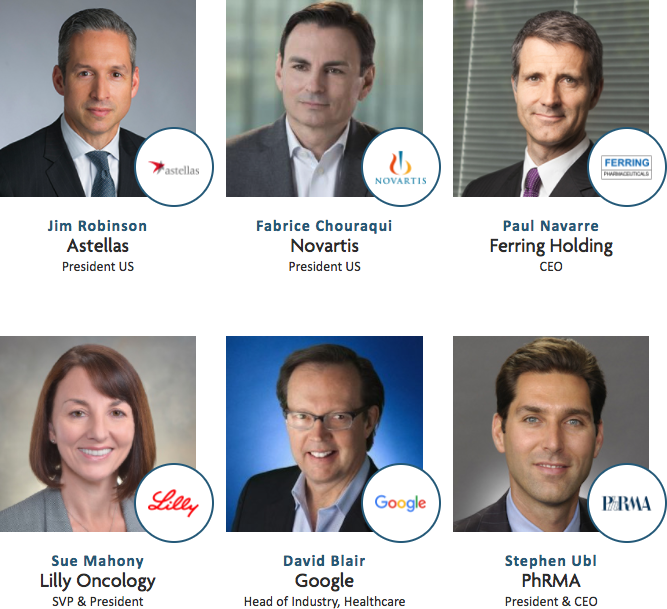 See who will be sharing their innovations, success and failures at the 2019 event, pre-order the event brochure on the right >>>

See why our NPS is a healthy 39
"eyeforpharma represents a unique opportunity for pharma professionals focused on patient support and engagement to come together and move the industry forward."

Jason DeGoes, SVP Global Patient Solutions, Teva
"This is my first time attending efp and it has been amazing. I have had very constructive conversations with industry colleagues sharing ideas on how to put the patient at the center of what we do. I will be sharing my experiences with coworkers and encouraging them to attend next year."

Jay Graves, VP Sales, Roche Diabetes Care
"The event focused on actionable items and case studies to improve the patient voice and ways to become a trusted partner."

Amy Himmelberger, Program Manager: Patient Engagement, Merck


Join us next year, to get involved, email Izzy on the details below
Kind regards,
Know your patient. Deliver real value.
eyeforpharma Ltd, headquartered at 7-9 Fashion Street, London, E1 6PX, United Kingdom. A registered company in England and Wales: 09823909.
See the agenda before anyone else and pre-order your 2019 brochure

Fill in your details below to see the speaker line-up and themes when they're ready: